4 ♥ 5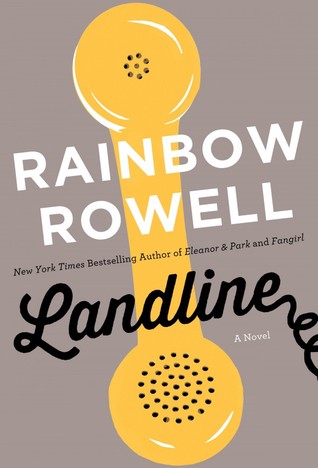 ---
Summary:
Georgie McCool knows her marriage is in trouble; it has been in trouble for a long time. She still loves her husband, Neal, and Neal still loves her, deeply — but that almost seems beside the point now.
Maybe that was always beside the point.
---
I am so excited to write this review. After reading a string of lukewarm books, this really made my day. In fact the moments when I wasn't reading it,I  yearned to get back to it. Badly.
Rainbow Rowell is not  an unknown name,thanks to Fangirl (yet to read). Attachments was the only other book of hers that I had read, it was fun so I was expecting something of the same. Quirky characters, sweet rom-com. This book changed all that.
This novel is romance but it so much more than that. It is essentially the journey of modern relationships. It digs deeper. I was surprised to find such depths in such genre.
I wasn't really expecting this book to hit me like it did. While the story is simple, the plot is rich and folds out beautifully. Maybe a chapter in there could have been reduced, but honestly who cares when its such a satisfying read!
Rainbow Rowell fleshes out real characters, real as they get. This ain't about gorgeous blonde(insert hair color) meets drop-dead gorgeous (ahemm forgettable) dude. No its about normal people with flaws, striving to be together. Heck, even the cynic in me recognizes that as romantic. My previous reviews all had one complain: no character development, well this one nailed it.
The main lead —  Georgie  — is selfish, quirky but more selfish. She is the classic example of 'taker' in a relationship.Its  her needs before others, and her dreams. Sounds bad right? Why would you want to know her? Wrong, Rowell manages to let the reader empathize with her. You will find yourself cheering for her, rooting even.
The plot goes through the flashbacks, reminds us not to take life for granted.And it has gems like these:
Neal's face was like a flower blooming—you'd need time-lapse photography to really see it in action.
The story of Neal and Georgie is not like the usual cheesy love fest , there are some real moments. What you have is real doubts and issues of real people who love each other and choose to be together. Like real life, that love doesn't overcome every hurdle and this book is clear about that.
There are some thoughtful moments – quite a few actually, gave me a lot to ponder – there was immense emotional payoff (yay!). And there are some typical Rowell humour such as :
How could people live someplace that so obviously didn't want them? All that romance about snow and seasons . . . You shouldn't have to make a special effort not to die every time you left your house.
Overall a great story and plot with the right pace.
Oh did I mention that the landline is critical to the story and how it rolls out. Since this is a no spoiler review, you gotta read to know!
 2016 Books Read:  5/100*
*I've been noticing my impatience on reading a book, thanks to the 100 book goal, I am really thinking of taking a step back, making a realistic target of 70 books this year. It is no fun when you cannot get lost in a book.
Have you read 100 books a year? Any tips for me?
my read shelf:

—Take care, happy reading!—
---
"Books fall open, you fall in. When you climb out again, you're a bit larger than you used to be." – Gregory Maguire